Training Camps
Zadar area is the new star on a sky of triathlon training destinations. With moderate Mediteranian climate, good condition and low density roads, lots of running tracks, destination popularity is rising constantly.
Falkensteiner Punta Skala resort is situated on ideal position, just 12-15 minute drive from sports center Višnjik which includes closed 25m swimming pools and stadium facility with 400, and 1200m athletic tartan tracks.
Within Resort you can use open 25m heated swimming pool, and newly built sports centre – Fortis, with well equiped gym and sauna.
After hard trainings you can recover in SPA&Wellness centre on 6000m².
Resort is situated 8km outside city area, so you can start your bike and running sessions as soon as you exit the hotel building.
Your Camp
Are you are considering holding your training camp here?
Training opportunities
This autumn we are offering you a great opportunity to learn from the top class coaches on our pre-race camps!
– From 24.9. to 1.10.  you can join DEJAN PATRČEVIĆ, 2x IRONMAN WC KONA-HAWAII PRO finisher
– From 3.10 to 8.10. we are proud to have two time Kona Ironman WC Champion, the first man with Ironman race under 8h (7h:50) and one of the best long distance triathlon coaches in the world, the one and only – LUC VAN LIERDE!!
As a part of Zadarhalf triathlon training camps we are offering which will be led by Adriatic Coaching and Dejan Patrčević, Two Time Ironman Kona WC PRO finisher.
To all athletes who book camp, we will approve additional discount on already discounted prices valid for Zadarhalf race (check here). Additionaly, all training camp participants will get 50% discount on Zadarhalf race entry fee.
Zadarhalf official training camp · September 24th – October 1st 2021
More info about Zadarhalf training camp you can find here – www.adriaticcoaching.com
ZADARHALF TRIATHLON PRE-RACE CAMP with LUC VAN LIERDE 3.10. – 8.10.
Camps will be led by two time Kona IRONMAN WC Champion, the first man who went Ironman race below 8 hours (7:50:27) and one of the best long distance triathlon coaches in the world
Luc Van Lierde is not only one of the best triathletes ever, he is currently one of the world's best long distance coaches. He has won two Kona Ironman World Championships, but also has three podium places as a coach. His athletes,
Frederik Van Lierde
and
Bart Aernouts
, won the Kona in 2013, finished second in 2018 and third in 2012. His athletes also won many other Ironman races.
Training camp participation fee is 100€, and it includes:
– bike and run sessions on Zadarhalf race course
– swim sessions on Zadarhalf "Madwave" race course and 25m heated pool
– lectures on how to improve your own performance on the race day
– discount for lactate test and 1on1 results analysis by Luc
– Covid-19 antigen test, if needed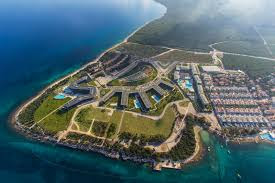 All registered participants and their companions will be approved extra promotional prices for full board accommodation at the
Falkensteiner Hotel Diadora
during the camp:
– adults – 60€ per night
– kids 12-17y – 45€,
– kids 6-11y – 30€,
– kids 0- 5y – gratis.
– single occupancy – 100€
The number of participants is limited, hurry up and sign up!